×
[PR]上記の広告は3ヶ月以上新規記事投稿のないブログに表示されています。新しい記事を書く事で広告が消えます。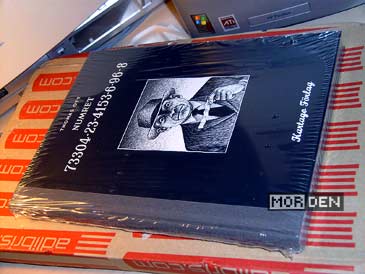 It's certainly been awhile since I last talked about comics, but this is to change. Right ... about ... now. I went on a small shopping spree and bought a few new books, one of which I will talk a little bit about in this entry. I'll probably talk about the others aswell, as soon as they arrive. For the time being, Thomas Ott and his fantastic work entitled The Number 73304-23-4153-6-96-8 are here and I'm completly under their spell.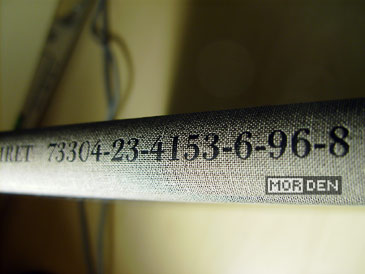 First of all, the edition I bought was published in Sweden by
Kartago Publishing House
, thus the small title change [Numret 73304-23-4153-6-96-8]. A bit of important information here - no matter what country you'll buy this book from, Ott's graphic novel does not contain a single speech bubble. It is rather like a silent noir movie and it does work better than you'd expect it to.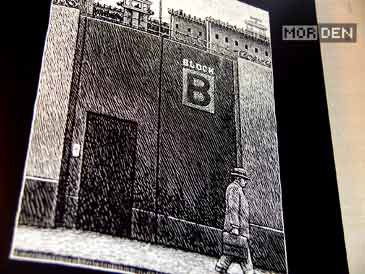 Before I'll tell you about the story, let me emphasize one thing: the book looks amazing. It's a hardcover edition that has a really solid feel to it. Paper quality is great aswell, which is extremely important in this case. Being a black and white publication, properly saturated black is of highest importance and the publishers really did a great job. This is how Thomas Ott wants his books to look like, and no matter where you buy them, they're always hardcovers.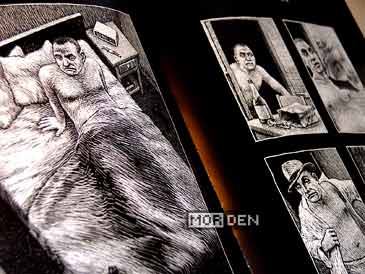 The story starts with an execution. A prison guard, after tending to the electic chair controls, finds a piece of paper with a number sequence written on it. The numbers, as you might have guessed already, are 73304-23-4153-6-96-8. He puts the piece of paper in his pocket and doesn't think too much about it. Shortly afer however, the numbers start to display their significance, affecting their bearers life and ultimately his choices.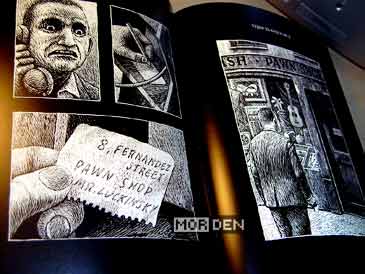 I don't want to spoil the story, so if you want to know what happens, you'll have to buy the book, and I assure you, it's worth the purchase. Thomas Ott has created a really moody story that can be easily compared with best episodes of The Twilight Zone or Tales from the Crypt. The Number 73304-23-4153-6-96-8 is what you could call a classic horror story. It's not overworked and relatively simple, yet it manages to appeal to your senses.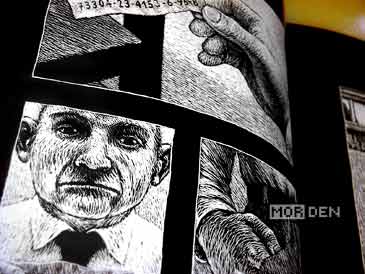 The artwork is absolutely superb. The images look as if Thomas Ott used line engraving print technique, where it's the white lines that appear to be dominant. This creates an illusion as if white ink was used on black paper and not the other way around. Each page is a marvel to behold and I can promise you, the tiny pictures you see here do the art absolutely no justice.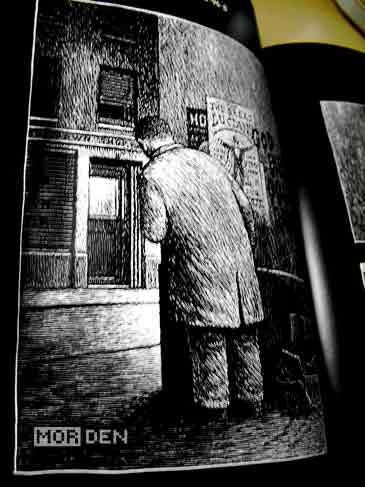 US comic book market is mostly dominated by superhero comics, along with Japanese manga, which still remains quite popular, especially when a particularly hyped series get published [like One Piece or Naruto, more recently]. Japan and the rest of asia have their own thing and they stick to it - All that is just simply wrong. If you really like comics, take your time and pick what's best from each one of those worlds. When it comes to European comics, and horror stories in particular, I suggest you give Thomas Ott a try.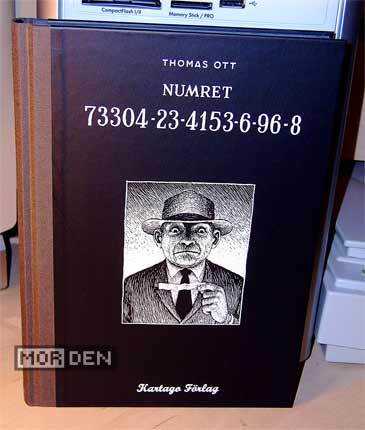 The Number 73304-23-4153-6-96-8 is an easy book to find, so I won't even link to any stores. You can find it on Amazon, and if you live in Europe, chances are someone in your country has already published it. Like I said, it doesn't matter where you get this, because there is no written dialogue. Look around for a cheap offer and get yourself a present - most likely the best graphic novel you'll buy this year.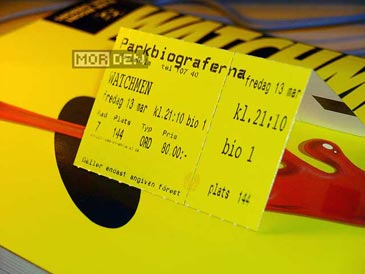 In other comicbook related news, I bought the tickets to Watchmen, which premieres on March, Friday 13th. I have already
voiced my concerns
and soon enough, we'll find out if this movie is any good. I also talked to the movie theater folks and asked them to leave one poster aside for me. Let's hope they'll come through.
PR
Trackback to this article →
Calendar
| S | M | T | W | T | F | S |
| --- | --- | --- | --- | --- | --- | --- |
| | | | 1 | 2 | 3 | 4 |
| 5 | 6 | 7 | 8 | 9 | 10 | 11 |
| 12 | 13 | 14 | 15 | 16 | 17 | 18 |
| 19 | 20 | 21 | 22 | 23 | 24 | 25 |
| 26 | 27 | 28 | 29 | 30 | | |

Contact

Poison

New Entries
(01/17)
(09/09)
(09/08)
(03/07)
(01/31)