×
[PR]上記の広告は3ヶ月以上新規記事投稿のないブログに表示されています。新しい記事を書く事で広告が消えます。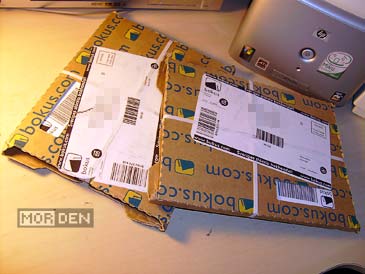 Two separate packages from one bookstore? Looks like someone couldn't be bothered to check that both orders were placed by the same customer on the same day. Oh well, as long as I got what I paid for, I'm happy.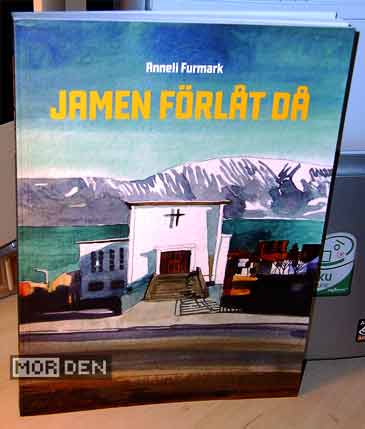 I got two books this time, one of them being "Skissbok" [sketchbook] by
Marcus Nyblom
, and the other - seen on the pictures - "Jamen Förlåt Då" by
Anneli Furmark
. After tearing through
Numret 73304-23-4153-6-96-8
, I wanted something with actual text in it and that's where Anneli's work comes in.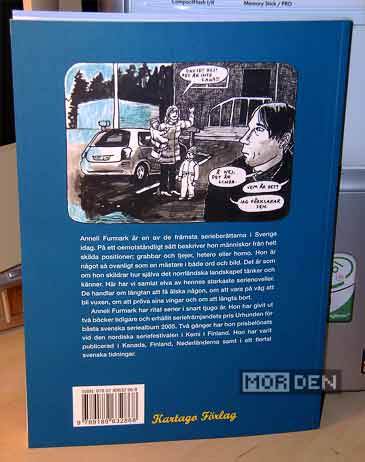 "Jamen Förlåt Då" is a Swedish title that could be loosely translated to "I'm sorry", but it's an "I'm sorry" with a dose of attitude, as if you were apologizing while being annoyed and telling someone to piss off at the same time. This book is a compilation of eleven stories both written and illustrated by Anneli Furmark. All of these slices of life are unrelated and you get a feeling that the person who wrote them probably isn't the most cheerful human being on this planet.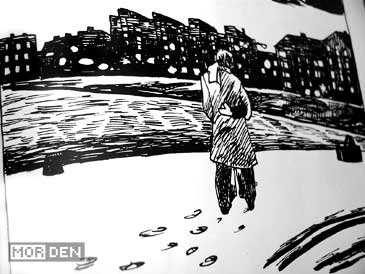 I'm a sucker for moody stories. They don't have to try to scare me but I like stories in which real life is reflected. Nothing is bright and colorful and there are no definite happy endings. Anneli's stories fit this description perfectly. Reading them is like peeking into someone's life to observe even the most trivial events. The book has a very personal feel to it, as if it was letting you in on a secret.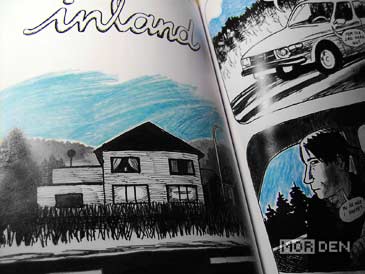 Anneli Furmark was born and grew up in
Luleå
, which is located in northern Sweden, in the Norrbotten [Northbottom in english] province. Her origin certainly comes through in all of the stories. It's usually cold and dark, and in some ways really calm. Northern parts of Sweden are not densly populated and they have that small, closed community feel to them - along with mostly undisturbed nature.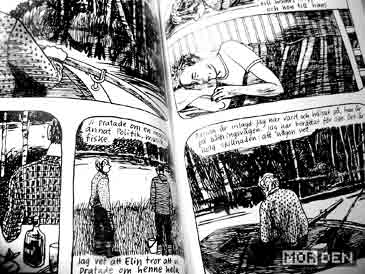 The art in "Jamen Förlåt Då" is something else. The book has a very distinct, European feel, and once you familiarize yourself with Anneli Furmark's style, it's impossible to mix up her works with anyone elses. The comic is mostly black and white, with only one story [
Inland
] using very limited colours. Anneli's drawings are a huge contrast to her paintings, which are usually very detailed and photorealistic.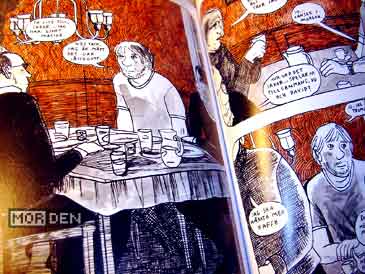 Unfortunately, as far as I know, "Jamen Förlåt Då" was published only in Sweden and it's not likely to be translated to english. It's not a book for every taste and there's absolutely no continuity between the stories, so options for marketing of this title are extremely limited. It's a shame if you ask me. I've grown tired of generic superhero comics and even more generic manga, and reading comics like this one is pure pleasure to me.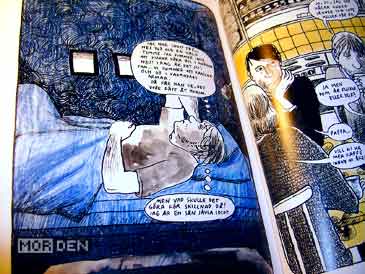 This book reminds me alot of an underground Japanese manga magazine, Garo [
ガロ
]. The magazine went bankrupt in 2002, but the years I spent reading it introduced many remarkable artists to me - all of which I valued for their moody stories. It's been ages since I felt this moody sadness while reading a comic book and for that reason I love "Jamen Förlåt Då".
PR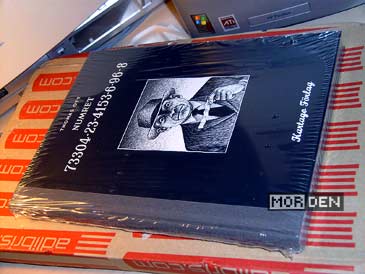 It's certainly been awhile since I last talked about comics, but this is to change. Right ... about ... now. I went on a small shopping spree and bought a few new books, one of which I will talk a little bit about in this entry. I'll probably talk about the others aswell, as soon as they arrive. For the time being, Thomas Ott and his fantastic work entitled The Number 73304-23-4153-6-96-8 are here and I'm completly under their spell.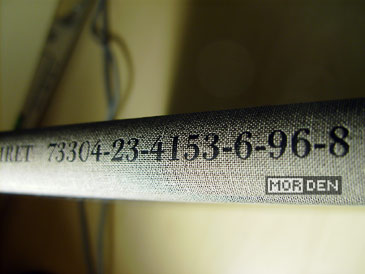 First of all, the edition I bought was published in Sweden by
Kartago Publishing House
, thus the small title change [Numret 73304-23-4153-6-96-8]. A bit of important information here - no matter what country you'll buy this book from, Ott's graphic novel does not contain a single speech bubble. It is rather like a silent noir movie and it does work better than you'd expect it to.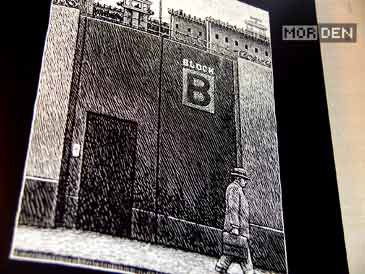 Before I'll tell you about the story, let me emphasize one thing: the book looks amazing. It's a hardcover edition that has a really solid feel to it. Paper quality is great aswell, which is extremely important in this case. Being a black and white publication, properly saturated black is of highest importance and the publishers really did a great job. This is how Thomas Ott wants his books to look like, and no matter where you buy them, they're always hardcovers.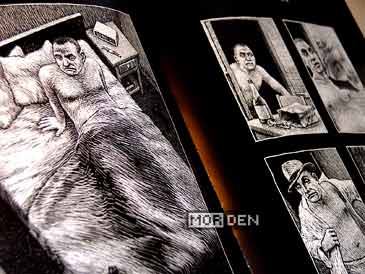 The story starts with an execution. A prison guard, after tending to the electic chair controls, finds a piece of paper with a number sequence written on it. The numbers, as you might have guessed already, are 73304-23-4153-6-96-8. He puts the piece of paper in his pocket and doesn't think too much about it. Shortly afer however, the numbers start to display their significance, affecting their bearers life and ultimately his choices.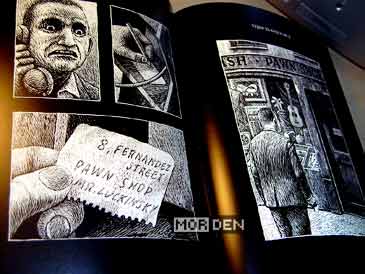 I don't want to spoil the story, so if you want to know what happens, you'll have to buy the book, and I assure you, it's worth the purchase. Thomas Ott has created a really moody story that can be easily compared with best episodes of The Twilight Zone or Tales from the Crypt. The Number 73304-23-4153-6-96-8 is what you could call a classic horror story. It's not overworked and relatively simple, yet it manages to appeal to your senses.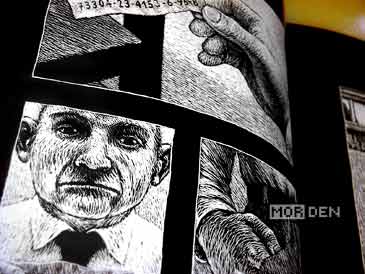 The artwork is absolutely superb. The images look as if Thomas Ott used line engraving print technique, where it's the white lines that appear to be dominant. This creates an illusion as if white ink was used on black paper and not the other way around. Each page is a marvel to behold and I can promise you, the tiny pictures you see here do the art absolutely no justice.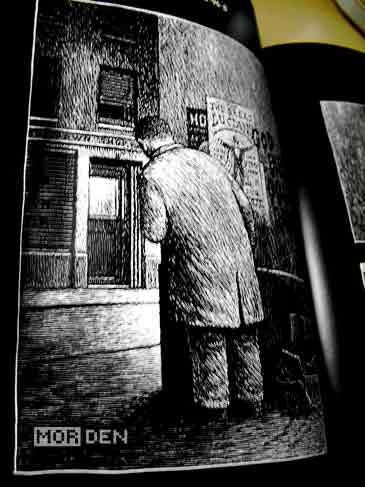 US comic book market is mostly dominated by superhero comics, along with Japanese manga, which still remains quite popular, especially when a particularly hyped series get published [like One Piece or Naruto, more recently]. Japan and the rest of asia have their own thing and they stick to it - All that is just simply wrong. If you really like comics, take your time and pick what's best from each one of those worlds. When it comes to European comics, and horror stories in particular, I suggest you give Thomas Ott a try.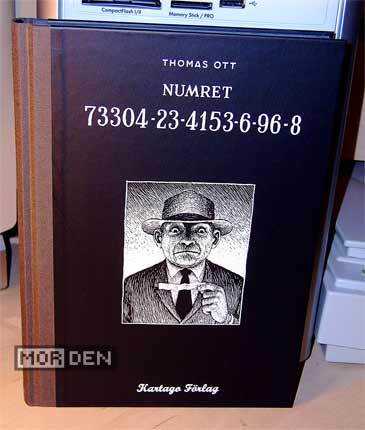 The Number 73304-23-4153-6-96-8 is an easy book to find, so I won't even link to any stores. You can find it on Amazon, and if you live in Europe, chances are someone in your country has already published it. Like I said, it doesn't matter where you get this, because there is no written dialogue. Look around for a cheap offer and get yourself a present - most likely the best graphic novel you'll buy this year.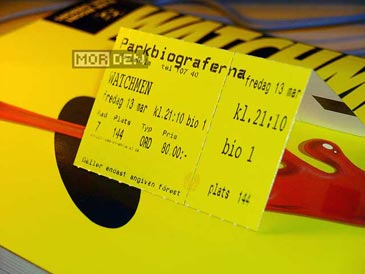 In other comicbook related news, I bought the tickets to Watchmen, which premieres on March, Friday 13th. I have already
voiced my concerns
and soon enough, we'll find out if this movie is any good. I also talked to the movie theater folks and asked them to leave one poster aside for me. Let's hope they'll come through.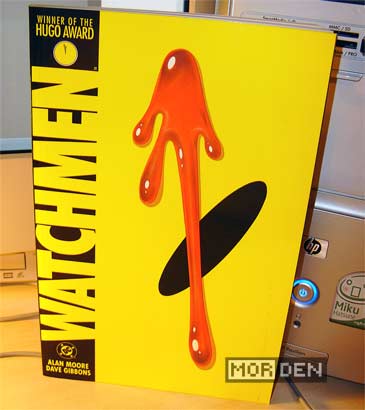 Three, six, nine. There's only a few short months left until Watchmen movie opens. Ever since I found out that there
is
going to be a movie, I was strongly against it. After all, every film has to compromise and cut out original content to make the movie fit between studio guidelines. My opinion from the start was that Watchmen can't be squeezed into a three hour feature. Now I read that the studio made the silver screen version two and a half hours, omitting thirty minutes from Snyder's original cut.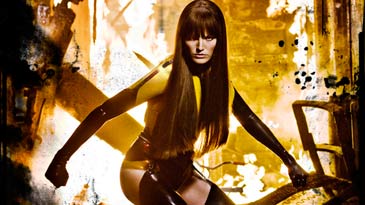 Being a Watchmen fanboy that I consider myself to be, I can't help but worry that the movie will not only spoil the whole Watchmen experience, but will also create an army of teenagers who never heard about the graphic novel, but now know all about it and claim they have read it ages ago. Not that suck things keep me up at night, but it kind of bothers me to see such things happen and I'm not surprised that Alan Moore refused to work on both V for Vendetta and Zack Snyder's latest blasphemy of a movie.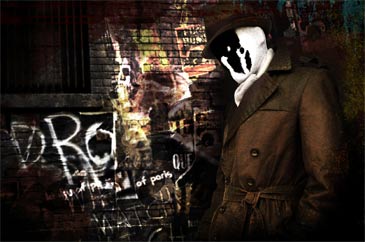 Am I planning on watching it? Yes, I am. Will I go to the movies and get the DVD afterwards? I probably will. The main concern that I have is that this movie is just another money making machine. I already know that the story of the Black Freighter will be released on a separate DVD. Being a sideplot in the graphic novel, it was a bit of extra spice that Moore had cleverly put there to give the whole Watchmen experience even more depth. Now it's merely a DVD, sold separately. Oh well, at least they shot it, right?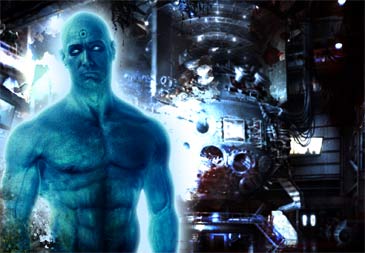 Another concern of mine is the amount of violence that will be shown. Despite the "R" rating that the movie recieved, I know that moviemakers have the tendency of mellowing down the more violent bits. Violence is one of the main aspects of Watchmen and is there to illustrate something. Toning it down is like putting clothes on Demi Moore in Striptease.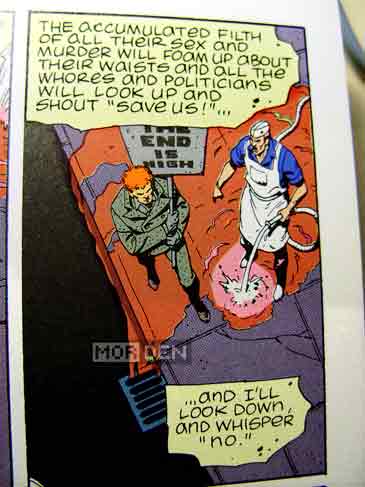 Even though there are
only two
spoken lines in the movie trailer [which you can watch by clicking on the thumbnail below], already one of them is cut down to size. Compare the frame pictured above with the following quote: "The world will look up and shout 'save us', and I'll whisper 'no'" Still being a strong line, it's a mere shadow of Rorschach's original narrative. Can this movie be good or at least decent? We'll see in a couple of months.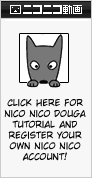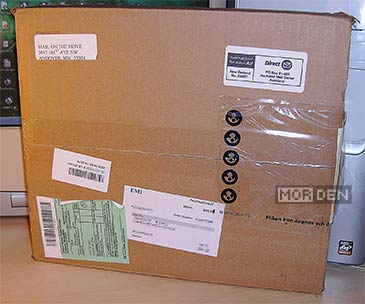 Finally, it arrived! It's been ages since Sam & Max: Surfin' the Highway was first published and since then, it became a holy grail for Sam & Max fans all over the world. This rare gem could be obtained only through eBay, at a mindblowing price of $100+, depending on the overall book condition.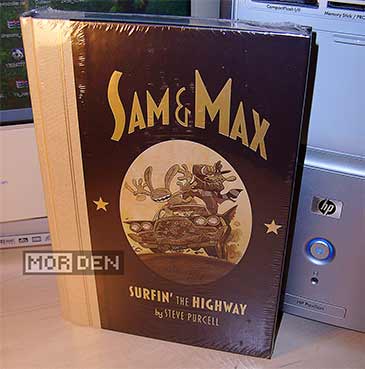 Telltale Games, the company responsible for reviving the Sam & Max game series, aswell as bringing a ton of related merchandise, had decided it was about time to give Surfin' the Highway a new run. The work on the new edition began some time ago and after some significant delays it's finally out.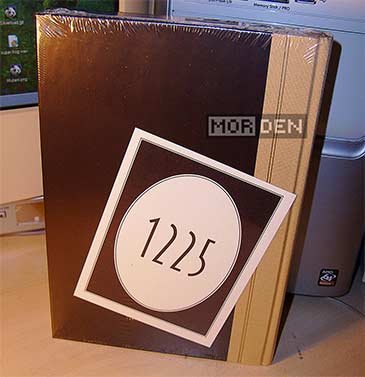 There are two versions of Surfin' the Highway avalable. A regular paperback and the limited hardcover. The hardcover edition had a limited run of 2500 copies [Or 2502 to be exact - The 2501st copy went to Steve Purcell and the 2502nd went to Telltale Games office], all numbered and autographed by the Sam & Max creator himself.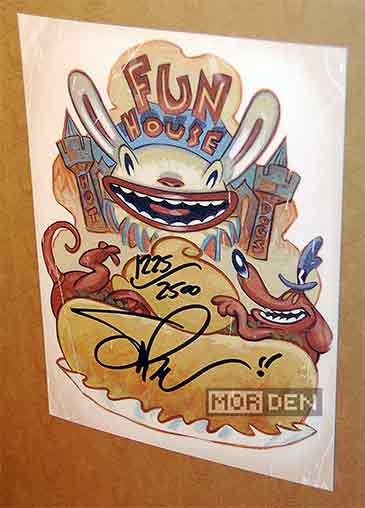 When I finally picked up the package I thought it was quite heavy. The box containing the book and some packaging paper weighed a ton. Main reason for that is the hard cover and the thick high quality paper the book is printed on. This is how a good comic book should look like. The quality of this edition is just superb.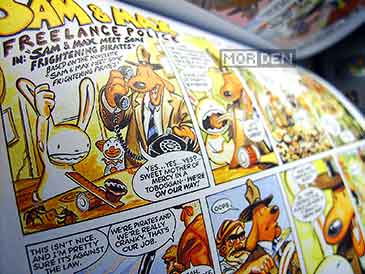 What about the material? All of you who know and love Sam & Max will get more than a few laughs out of Sufrin' the Highway, but what about those who never read the comic? Luckily, Steve Purcell's humor works just as well today, as it did in '95, when the compilation first saw the light of day.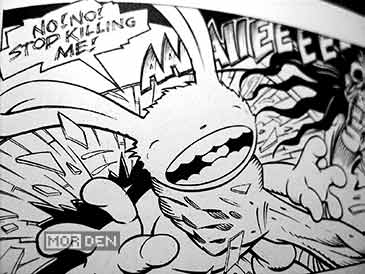 If you're not sure whether or not to buy the book, you can always choose the cheaper paperback, but then you won't be getting an autograph! If you decide to get a hardcover though, there's a fair chance of scoring a high number on the edition, since Telltale's warehouse are a bunch of idiots and they send out books by random.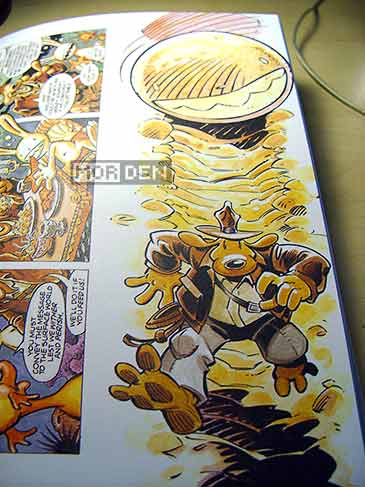 The warehouse mess resulted in me getting a book No.1225, even though I was one of the first people to order it. Warehouse nimrods also thought it would be amusing to label the package with "Software made in U.S.", even though the package contained a book. This may result in high customs fees if you live outside the U.S. Just because Telltale's warehouse people are a bunch of morons, I got slapped with a fee that equalled one third of the initial book price.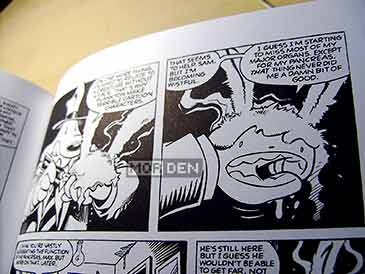 But hey, it's a numbered edition, no matter how you look at it. There's only one person in the world that owns Sam & Max: Surfin' the Highway number 1225, and that person is me. 2500 books is still a pretty limited run and I'm sure that if you don't score one of these now, you're looking at eBay and really high prices.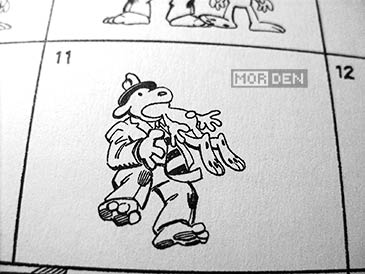 So, are you in the mood for some crazy and uncensored Sam & Max action? Go for it! Get this book and you will be pleased with yourself. It has love, lust, girls, guns and granades. It has kidnapped manatees, pirates, plastic dinosaurs, and who knows, if you read carefully you might just find the meaning of life somewhere between the lines.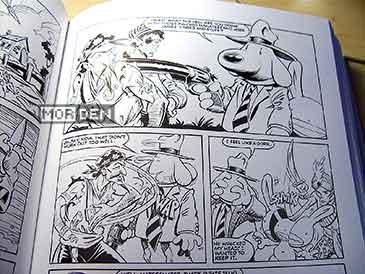 Those of you who have played Sam & Max: Hit the Road and the Telltale episodes and seen the TV series [also sold by Telltale] might find the material a bit too familiar but it was this book that started it all and if you miss out on it, you're going to regret it big time.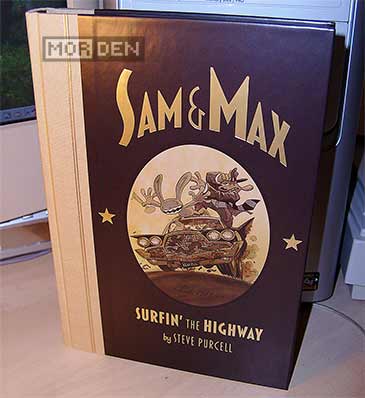 For me the total cost of this book came down to about $83. This includes the book, shipping and the customs tax fees. It's alot of money for a comic book, but you're getting an exceptionally entertaining compilation of all Sam & Max comics out there, you get it on a top notch quality paper with a hard cover, an autograph by Steve Purcell and guess what. It even has a red bookmark ribbon. The only thing I thought was missing was the dust jacket, but you can make your own, right?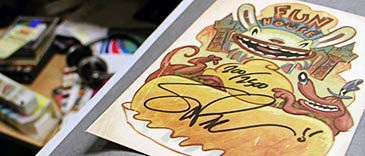 Finally, after months and months of waiting, the hardcover signed edition of Sam & Max: Surfin' the Highway is heading for print. The regular edition has been out for a while and I was getting quite unpatient. Today however, I have recieved an email from Telltale explaining, that everything is fine and that the book should be out soon.
Steve Purcell has been signing 2500 special plates that will be placed on the first page of the hardcover edition, and I've already stated that I won't settle for anything less that numbers 1 - 20, or a nice even number like 100, 1000 or the last book to be signed, 2500. Let's keep those fingers crossed and hope I won't get a crappy 714 or some equally crappy number.
Calendar
| S | M | T | W | T | F | S |
| --- | --- | --- | --- | --- | --- | --- |
| | | | 1 | 2 | 3 | 4 |
| 5 | 6 | 7 | 8 | 9 | 10 | 11 |
| 12 | 13 | 14 | 15 | 16 | 17 | 18 |
| 19 | 20 | 21 | 22 | 23 | 24 | 25 |
| 26 | 27 | 28 | 29 | 30 | 31 | |

Contact

Poison

New Entries
(01/17)
(09/09)
(09/08)
(03/07)
(01/31)