×
[PR]上記の広告は3ヶ月以上新規記事投稿のないブログに表示されています。新しい記事を書く事で広告が消えます。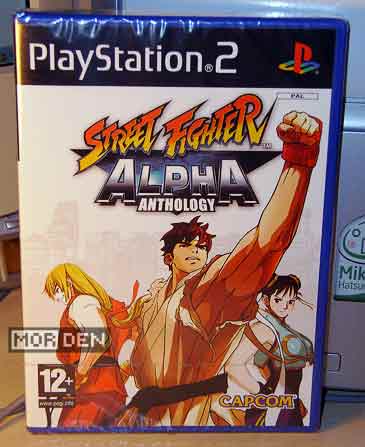 As you have probably already noticed, lately I've been buying alot of compilations of older titles and precious few fresh games. I still haven't bought Gears of War 2, Mad World, Resident Evil 5 and Street Fighter IV - I did buy a whole bunch of compilations though and the reason for that is simple: You get alot of games for your money and since they're arcade oldies, it's easy to play for a bit and move onto something else.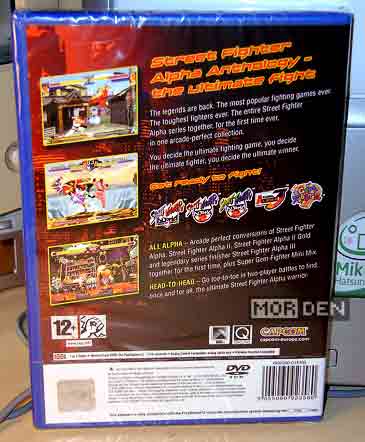 I've been planning on buying Street Fighter Alpha Anthology [or ストリートファイターZERO ファイターズ ジェネレーション in Japan] for a while. I do own all of these games, most of them for Sega Saturn, but I've been very pleased with the recent Capcom compilations, full of extras with perfect conversion quality, and I thought it would be convenient to have all these games on a single disc.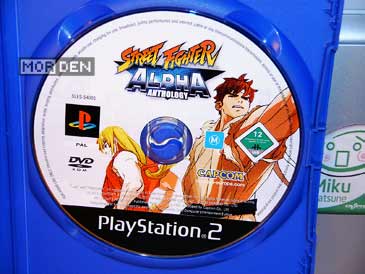 Street Fighter Alpha series had a slow start, with the first game not living up to expectations. It was, after all, a Capcom original, and those who were waiting for Street Fighter III to finally appear wanted something new, bigger and better. That wasn't exactly the case with the first Alpha game, but it sold well enough to spawn sequels, and that's where the fun begins.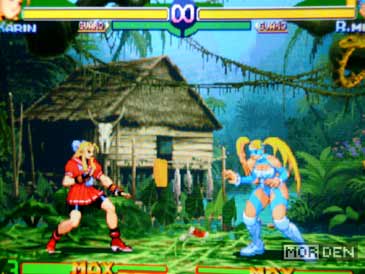 The series took off when Street Fighter Alpha 2 appeared on CPS-II. Improvement over the first title was noticable - Capcom had fine tuned the fighting system, added more characters, worked on the design and turned the ugly duckling that was Alpha, into a beautiful production that any fighting game fan would like to lay his hands on.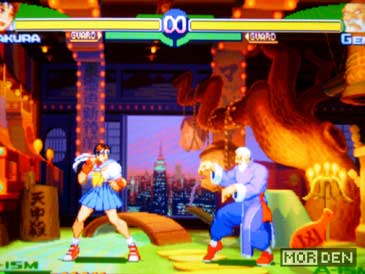 By the time Capcom released Alpha 2, it was clear that they had another strong franchise on their hands and so, everyone waited for the third game. Instead of getting Alpha 3, we finally saw Street Fighter III: New Generation, that was released on Capcom's brand new, state of the art arcade board, CPS-III. All eyes were on Capcom's new hardware and many of us were already imagining what could be acomplished with this new technology.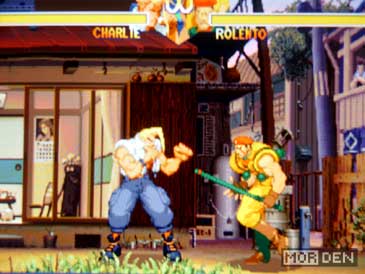 First two Street Fighter III games were a moderate success and so Capcom went back to their Alpha to develop a third installment. Instead of using the brand new CPS-III, the game was written for CPS-II. This was an unexpected move on Capcom's part, but they have managed to squeeze out every last drop of processing power contained in their now dated hardware.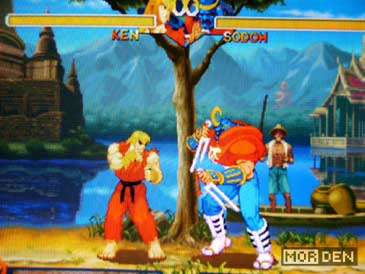 Street Fighter Alpha 3 was a huge success and it is safe to say that while first two games did ok, it was Alpha 3 that put the series on a pedestal. It turned out that Capcom needed three tries to make a promising game perfect. The exact same thing happend with Street Fighter III, where it was 3rd Strike that made all the difference.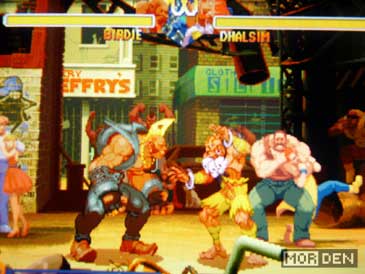 The story of Alpha series takes place before Street Fighter II, so it's a prequel. Some characters were brought in from the first Street Fighter game, some came all the way from Final Fight series. It worked. The minute I saw Alpha 2 at an arcade, I was hooked for good. The speed was there, the game looked sharp and the anime-esque art seemed so fresh, I couldn't help but throw in one coin after another into the machine.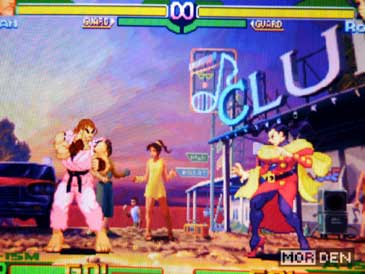 Obviously, I have alot of fond memories of the Alpha series, and as a seasoned player, what do I think of Capcom's compilation? I think they did pretty good. All the games are here, and you can even switch between different hardware revisions of each title. The only thing that bugs me is why the hell they call it Alpha and not Zero, like Japanese do?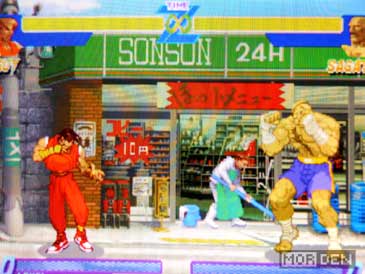 This is a minor issue, I know, but I always liked Zero better and I can never get used to the Alpha. Besides, it's only logical to call the series Zero, since it's a prequel, taking place even before the first game. Capcom always used numbers in the titles, and zero was a number, last time I checked, while alpha is not.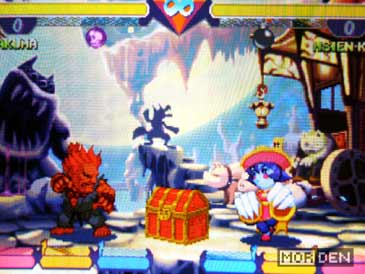 So, once we boot the disc, we can start Street Fighter Alpha, Alpha 2, Alpha 2 Gold, Alpha 3 and Super Gem Fighter, a CPS-II super deformed take on the Street Fighter series - really enjoyable too, with a potential for a good party game for people who don't really like beat 'em up's.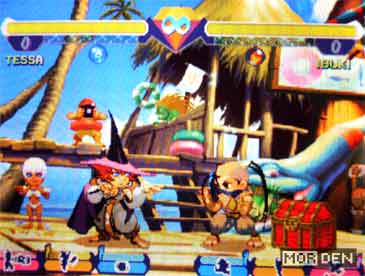 There are several other things that can be unlocked or uncovered, like Alpha 3 Upper, which can be accessed by pressing and holding the select button, while starting Alpha 3. This gives us the full character roster seen in console versions of Alpha 3. Sadly, World Tour mode didn't make it, but this compilation consists of arcade titles and World Tour was a console exclusive.
If you don't own the Alpha games, here's your chance to buy them all at once for a reasonable price. The PAL version supports 60Hz refresh rate and progressive scan, Alpha 3 Upper is unlockable, so if you're one of those who, except for the ISM's, likes to fight in Mazi mode, you're covered. I will complain about Super Puzzle Fighter not being included. This game belongs here and Capcom knows it. Also, I'm missing the professional feel of Capcom Classics Collection. I really would like to see separate artwork section for each game, a separate music player that shows BGM titles and things like that. Not to mention some nice video tutorials. Still, all in all Alpha Anthology is worth your money. Get it.
PR
Trackback to this article →
Calendar
| S | M | T | W | T | F | S |
| --- | --- | --- | --- | --- | --- | --- |
| | | | 1 | 2 | 3 | 4 |
| 5 | 6 | 7 | 8 | 9 | 10 | 11 |
| 12 | 13 | 14 | 15 | 16 | 17 | 18 |
| 19 | 20 | 21 | 22 | 23 | 24 | 25 |
| 26 | 27 | 28 | 29 | 30 | 31 | |

Contact

Poison

New Entries
(01/17)
(09/09)
(09/08)
(03/07)
(01/31)