×
[PR]上記の広告は3ヶ月以上新規記事投稿のないブログに表示されています。新しい記事を書く事で広告が消えます。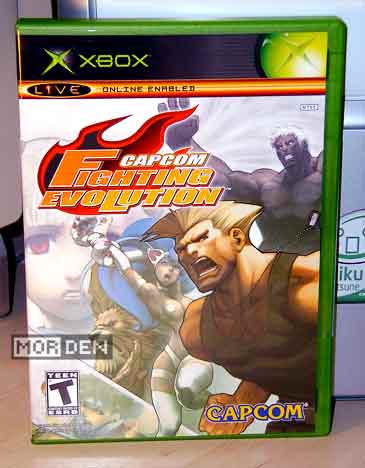 Welcome, to yet another entry dedicated to a Capcom fighting game. It seems like there's alot of them on my shelves lately, or maybe that's just my imagination, since
Street Fighter Alpha Anthology
was four titles on one disc? No matter - Capcom Fighting Evolution, for the good old Xbox is here. I've been playing it off and on for a few weeks now, and I feel like the time is right to finally write a thing or two about it.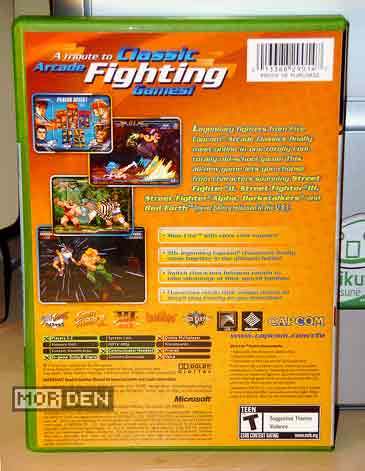 Let's start with some weirdness - Even though it clearly reads "Capcom Fighting Evolution" on the box, as it does on the disc, once you boot the game, you'll see "Capcom Fighting Jam" on your screen. What's up with that, Capcom? Getting lost in your own web of title changing madness? To add some more to the confusion, I bought this game in Europe, but the box is marked "NTSC". This obviously indicates that publishers and manufacturers have no idea what they are doing and they couldn't care less. The interesting thing is, European PlayStation 2 version kept its original title, "Capcom Fighting Jam".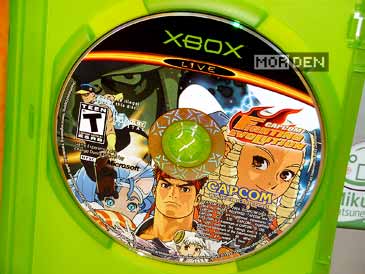 Weirdness aside, let us go directly to my first impressions. Anyone who knows how things work at Capcom pretty much knew what to expect from this title, and they got exactly that - and so did I. Capcom Fighting Evolution has "recycling" written all over it. It runs on
Capcom vs SNK
engine, and there is only one original sprite that was created expecially for this title. In other words, all Capcom artists had to do was to create new backgrounds and these aren't too hot either.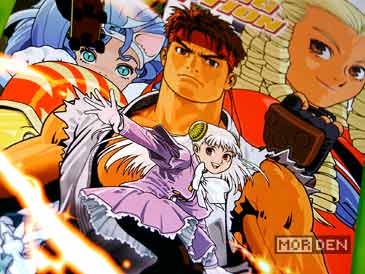 So what is this game all about? As the original name says, it's a jam, or a mix of characters from previous Capcom titles. We have some fighters from Darkstalkers / Vampire Savior, Red Earth / Warzard, Street Fighter II,
Street Fighter Alpha
, Street Fighter III, and last but not least, one original newcomer named Ingrid, who looks like a slightly revamped Karin sprite. She was originally to appear in
Arika
's 3D mix, Capcom Fighting All-Stars, but when this project died and Capcom decided to pick up the pieces, she ended up as a 2D Karin look-alike in Fighting Evolution, or Jam.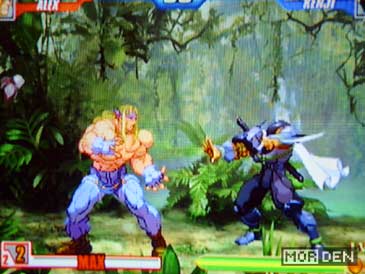 Capcom has proven to us that re-using sprites from the '90s can work, and their
Capcom vs SNK
series was extremely successful. Few complained about Morrigan looking like a bunch of pixels, and SNK characters not really blending in with the Capcom crowd, but solid gameplay came on top, and the CVS series is popular even today. It was clear that Capcom, despite being too lazy to draw new sprites, tried their best to create a polished product. One could say that Fighting Evolution has no excuse for not being a good title, but despite Capcom's experience in the recycling field, this new mash up job falls short of its predecessor.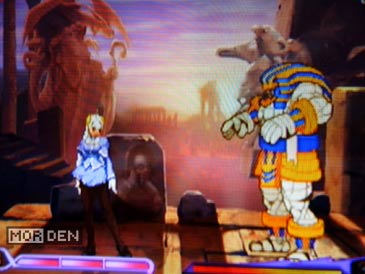 The main issue is the obvious lack of balance. Darkstalkers characters are way too strong, some Red Earth charasters are just too slow ... the list goes on. Capcom knows that bringing together characters from completly different worlds requires major adjustments - why did they fail to make these adjustments is beyond me. It's possible that a good Darkstalkers player will kick your ass every single time, because for some reason Capcom thought it would be a good idea to make these characters so much stronger than the rest of the lineup.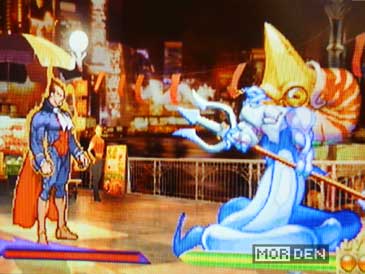 The lack of balance isn't the only shortcoming of this title. I have mentioned the backgrounds - Being the only major job the artists had, they should be good, right? They're not. While
Capcom vs SNK
featured nicely rendered 3D bacgrounds, stages in Fighting Evolution are flat. Not only that, they're also a bit blurry and the colors lack saturation. I'm not sure what happend, but because of the undersaturated palette, the stages look lifeless and boring. This might not be visible on the screens in this entry, but I assure you, once you see the game with your own eyes, you'll know what I mean.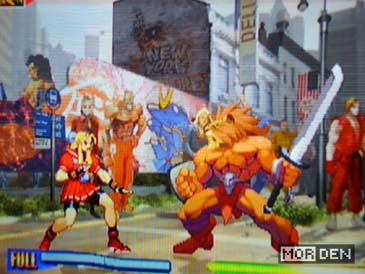 The soundtrack is just fine and nothing more. You won't catch yourself whistling Fighting Evolution tunes while shaving, but the music is not bad, and I'm pretty sure you won't have to turn it off. Capcom did however include some original tunes for all of the characters, coming directly from the games in which these characters have originally appeared. To unlock an original tune for a character you'll just have to complete the game once and that's about it. I'm not sure if there are any hidden features in this game, but judging from what I've seen so far, I doubt it.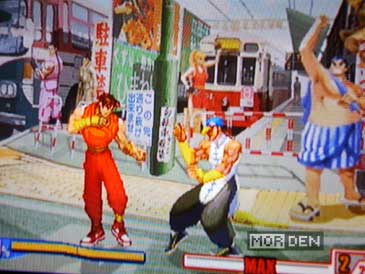 So is that all? Well, not exactly. Capcom did try to add to the gameplay by implementing a tag team mechanic. You'll choose two characters before you start playing, instead of just one, but while this worked in Tekken Tag or in Dead or Alive, it doesn't really work here. Even on a higher difficulty setting, the computer will almost never switch, and while I'm aware that these games are meant to be played against other players, you should be able to practise befor you face a real opponent.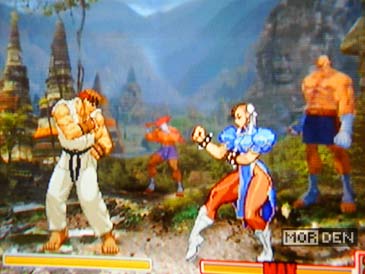 Despite all my whining and pointing out all these flaws, Capcom Fighting Evolution is a half decent game and if you can get it for cheap, go for it. The important question you have to ask yourself is: Am I an advanced player? If you are, you might end up dissapointed, instantly noticing the flaws a sunday fighting game enthusiast would simply overlook. If you enjoy fighting games, but you don't get obsessive about mastering advanced techniques, you might aswell give Fighting Evolution a chance.
PR
Trackback to this article →
Calendar
| S | M | T | W | T | F | S |
| --- | --- | --- | --- | --- | --- | --- |
| | | | 1 | 2 | 3 | 4 |
| 5 | 6 | 7 | 8 | 9 | 10 | 11 |
| 12 | 13 | 14 | 15 | 16 | 17 | 18 |
| 19 | 20 | 21 | 22 | 23 | 24 | 25 |
| 26 | 27 | 28 | 29 | 30 | | |

Contact

Poison

New Entries
(01/17)
(09/09)
(09/08)
(03/07)
(01/31)