×
[PR]上記の広告は3ヶ月以上新規記事投稿のないブログに表示されています。新しい記事を書く事で広告が消えます。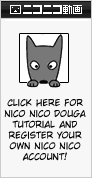 If anyone says Digimon stuff is for kids, well, they're probably right for the most part. But that does not mean you can't enjoy a decent game based in the Digimon world. I bought this one recently, took it for a quick spin and what do you know, it's not half bad.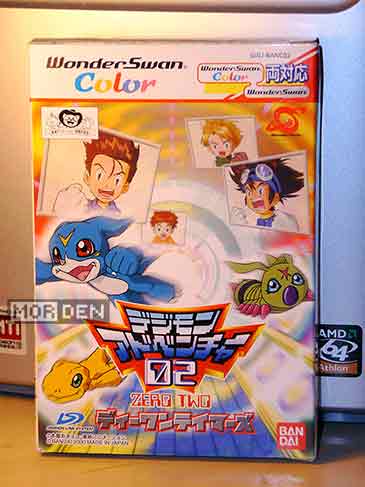 "Digimon Adventure 02: D1 Tamers" generally follows the story of the second season of the animated series. All starts with Ryo being transported to the Digital World to participate in D1 Tournament. The main objective is to defeat Moon=Millenniummon and that's pretty much it, to make a long story short.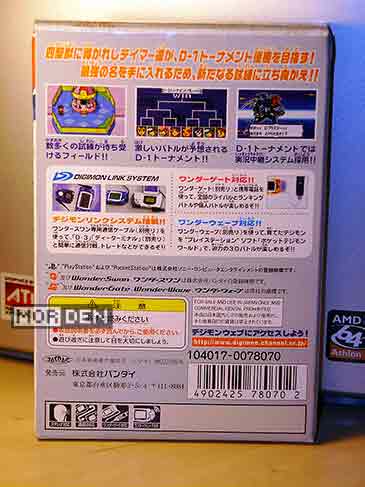 The game plays like you'd expect it to play. It follows the standard Digimon adventure game scheme established by the previous title, so don't expect any "wow" moments. D1 Tamers is your standard variety Digimon / Pokemon / Tamagotchi adventure mix.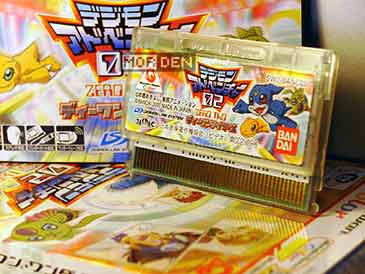 What's new, and quite neat in fact, is that the developers have somehow managed to equip this title with some awsome connectivity features. D1 is one of very few titles to support such wide variety of connectivity and data exchange options.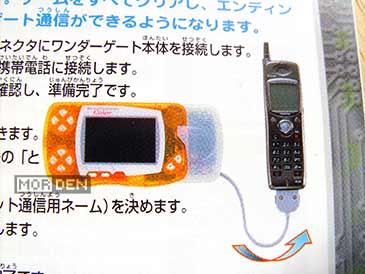 The title supports a standard link cable, a WonderWave wireless link connection, an internet connection through WonderGate [a dongle allowing you to connect your WonderSwan to the internet via a mobile phone in NTT DoCoMo network] and allows you to link WonderSwan with a couple of Digimon handheld devices, such as D-Terminal or Digimon Analyzer. The game supposedly features some kind of connectivity with Sony's PocketStation, but sadly the manual doesn't explain it.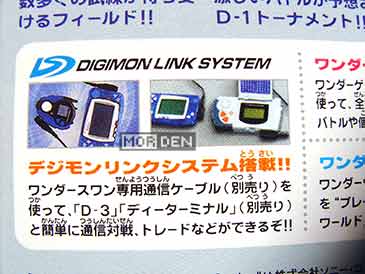 This pretty much proves that Digimon is all about swapping and playing with your friends, and that's where the real fun is. It's pretty amazing when you think about it. WonderSwan came out before GameBoy Advance did, and it already had internet connectivity. For this kind of feat people outside Japan had to wait for DS and PSP.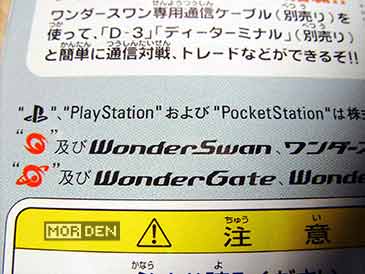 The game features about 230 digimons, but we'll have to take Bandai's word for it, as I'm not in a real hurry to verify that. One is certain. You'll have plenty to do while playing this game and you will get your moneys worth.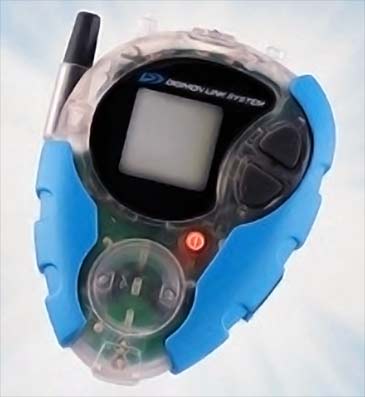 Is it a game for everyone? Not really. First of all, it's in japanese, but then again all WonderSwan titles are. As it is an adventure game, without knowing what's being said, you won't know what to do and you'll get stuck pretty quickly.

If you're familiar with the language, you still have to think if you're willing to spend hours and hours gathering monsters. That, plus the fact that WonderGate service has been down for years and you probably won't fine anyone to connect with via link don't make it an attractive purchase. Still, If you like Digimon and you own a WonderSwan, why not.
PR
Trackback to this article →
Calendar
| S | M | T | W | T | F | S |
| --- | --- | --- | --- | --- | --- | --- |
| | | | | | | 1 |
| 2 | 3 | 4 | 5 | 6 | 7 | 8 |
| 9 | 10 | 11 | 12 | 13 | 14 | 15 |
| 16 | 17 | 18 | 19 | 20 | 21 | 22 |
| 23 | 24 | 25 | 26 | 27 | 28 | 29 |

Contact

Poison

New Entries
(01/17)
(09/09)
(09/08)
(03/07)
(01/31)